New Rocks Off Havana and SUTIL Rich lube
Hello, MJ here again!
Last weekend on Instagram we reintroduced the people behind Jo Divine as part of National Career's Week. Samantha and Paul have been running Jo Divine since 2007, but if you'd have told me in 2007 that one day I'd be working for a sex-toy website, I would never have believed you. How times change! And how glad am I that they do.
So, this week we have a whole lot of fun for you.
Firstly, we have a couple of amazing new products to share with you: the Rocks Off Havana vibrator, and another fantastic lube from SUTIL. Below, you will find a personal (but unofficial!) review of the Havana, and a video that shows you just how rich SUTIL Rich is, and how it compares to SUTIL's Luxe lube. You can try some free SUTIL Luxe or Rich this week too – check out the special offer below.
Then we two new articles for you. The first – 5 Ways to Improve your Sex Life – does exactly what it says on the tin, and the second – Creating an Intimacy Bag – is full of advice on how to make sure pleasure is accessible to you whoever and wherever you are.
Here goes…
Introducing the Rocks Off Havana: pure pleasure at your fingertips
The Rocks Off Havana – available in gold or lilac – is the perfect partner for internal pleasure and intense clitoral stimulation. It's a rechargeable vibrator that is super-easy to control and is ideal for solo pleasure or with a partner!
Like all our toys, it's made from body safe materials (metallic ABS plastic) and the slim design harnesses powerful vibrations. It has 10 pleasure settings, satisfying beginners and experienced users alike. It's also brilliant value at just £37.99.
The Havana is waterproof, making bath time much more fun!
I've had lots of sex toys to try since I started working for Jo Divine, but I was amazed by how powerful and pleasurable this simple rechargeable toy actually is.
The practical stuff: the Havana has a magnetic USB charger, which gives you 3 hours of pleasure. Its length is 14cm/5.5" and it has a circumference of 8cm/3.1". It's a real pocket rocket.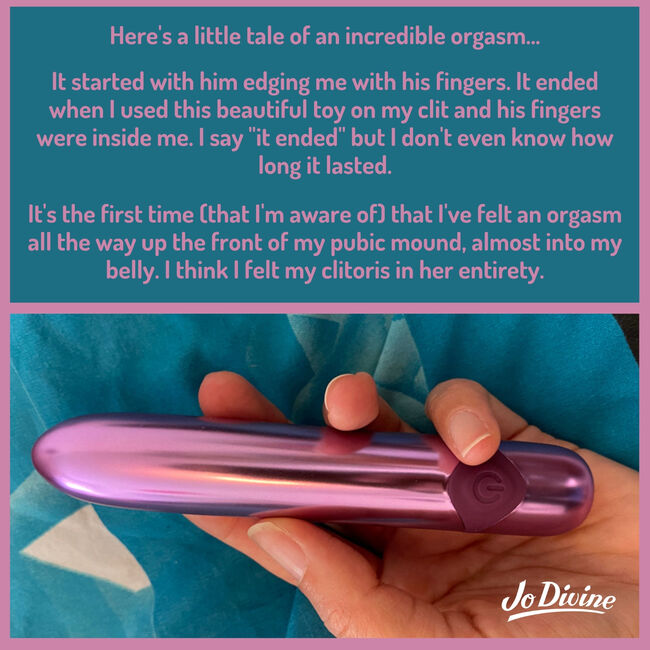 SUTIL

Rich: a thicker water-based lube with Horny Goat Weed
Well…. SUTIL Luxe has definitely made a splash(!) and we would like to now introduce you SUTIL Rich.
SUTIL Rich is a thick, velvety water-based lubricant infused with Horny Goat Weed, which is suitable for both vaginal and anal use. The extra viscosity helps it cling to your toy or partner, easing penetration and soothing dry, delicate tissues.
It contains small amounts of Horny Goat Weed — a herbal aphrodisiac, which I think is a fantastic name — that is added, along with Siberian Ginseng and Jujube nut. Traditionally these herbs are used to increase strength, energy, stamina and vitality, but they also help to boost immune functions and have natural antibiotic and antiseptic properties to fight infection. Horny Goat Weed is also a vasodilator, which promotes blood flow and increases natural lubrication.
One of our early testers said: "The first time we tried it, we could believe how much it interacted with natural lubrication, promoting a feeling of intense wetness. We're not sure if it is the Horny Goat Weed, but whatever it was it felt very good!"
SPECIAL OFFER: Spend over £35 this week, and we'll add a FREE 60ml SUTIL Rich or SUTIL Luxe (your choice) to your order. If you are a first time SUTIL user, we'd recommend trying Luxe (or both!) first.
Offer runs through to the end of Monday 15th March.
To obtain the offer:
Add a 60ml

SUTIL

Rich or

SUTIL

Luxe to your basket
Add additional products to the value of £35 or more to the basket.
The offer should be in your basket already – if not just click here to add the discount code (the system will add the code and return you to this page) or use offer code NEWS110321 when checking out.
SUTIL Rich is incredibly long-lasting and perfect for activities that require a bit of extra slip & slide (such as anal sex) and for those who love big toys.
Like all SUTIL products (and all the lubes we sell), it's paraben, glycerin and glycol free. SUTIL is made with the finest botanical Eco-Certified Ingredients. It's vegan, gluten-free and also comes packaged in a biodegradable tube. Because it's water-based, it's safe to use with all condoms and is toy-friendly yet still manages to be luxuriously silky, blending seamlessly with your own natural body fluids.
We'd LOVE to know what you think of it!
Here is a video to show you just how thick and rich SUTIL Rich is, and how it compares to SUTIL Luxe
5 Ways To Improve Your Sex Life
New on the blog this week, we discuss some great ways to improve your sex life. We think that sex is meant to be a lot of things: noisy, messy, consensual, pleasurable and most of all fun. But we also know that many people find that their sex life becomes boring over time.
However, it doesn't have to! There are a few things you can do in order to change that. In this article, we share some tips, that include: talking to your partner; sharing and exploring fantasies; using good sexual lubricants (see above!) and sex toys; seeking medical advice if you experience sexual issues including painful sex, low libido, decreased sexual sensation or erectile dysfunction; and getting regular sexual health checks.
Click here to read the article in full.
Creating an Intimacy Bag
Also, new on the blog, we have Samantha's brand-new article that tells you all about how to create your own "intimacy bag". At Jo Divine, we help many people to regain their sexual function and enjoy good sexual health, intimacy and pleasure after life-changing experiences such as cancer.
An intimacy bag can be a great way to make sure you have everything you need on hand. Our advice includes using a good vaginal moisturiser, good sexual lubricants (which are free from any irritating ingredients), suitable sex toys and our silky smooth silicone dilator kit, all of which can help people regain their sexual function and enjoy pleasurable sex in whatever way they want or are able to.
I tend to keep a tube of SUTIL lube, whichever vibrator(s) I'm currently most excited by, some Glucogel (I have type 1 diabetes, so this is in case my blood sugars drop), as well as condoms (and occasionally a ball gag!) in mine…
Click here to find out more about what you might like to put in yours.